Maps & Travel
Getting to the Island
Interstate I-75 will bring you to the ferry docks in both Mackinaw City, located in the Lower Peninsula, and St. Ignace, located in the Upper Peninsula. Access to the island can be made from both of these cities. The exits are clearly marked for several miles.
Ferry Information
Shepler's Ferry operates from Mackinaw City and St. Ignace to Mackinac Island and will offer significantly discounted tickets to runners ($23 per adult and $14 per child).  Tickets may be purchased during your registration process, online through Shepler's or at the ferry docks.  If you pre-order online, use code ISLANDRACER at checkout.  Please check ferry schedule for departure times.
Use Code ISLANDRACER
to receive discount tickets online 
Shepler's Parking Information
For those who are coming for the day, go directly to the Day Parking Lot off Exit 338 on I-75.Parking is free and a shuttle will take you directly to the dock after you park.
For those staying overnight, you must go to the ferry dock to purchase your parking, then drive your car to the overnight parking lot and return by shuttle to the dock.
Please allow extra time, as there is no valet parking available.
Premium parking is also available on-site.  Go to Shepler's Ferry for more information and current pricing.
Walking the Island
Mackinac Island is very walker friendly. Many enjoy strolling the downtown area which is about five city blocks. It takes 15-20 minutes to walk up to the Grand Hotel or on the lake shore to Mission Point Resort. The distance around the Island is almost eight miles and takes about 3.5 hours to complete.
Bicycles 
A great way to get around the Island is by bringing a bicycle or renting a one. If you choose to rent, Burley carts with bicycles are the favorite as they are especially helpful to families with small children who are bringing a lot of luggage or gear.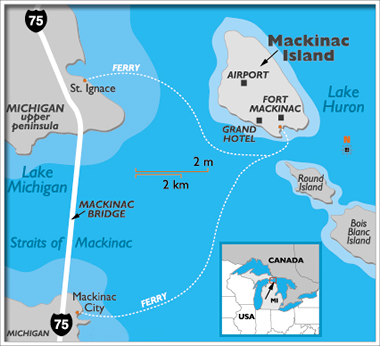 Horse-drawn Taxis
Horse-drawn taxis are the main mode of transportation on Mackinac Island and a fun way to get from place to place. The taxis can be ordered by calling (906) 847-3323, by using the courtesy phone located at the Taxi Office downtown, from the courtesy phone at the Mackinac Island Tourism Bureau or by asking the front desk staff to order one. The island is divided
into several zones; downtown, Fort Mackinac, Stonecliffe area and other points further from town with pricing according to distance.
Useful Links
Mackinac Island Overview Map
Mackinac Island Guides and Maps Directory
Ask the Concierge
Horse Drawn Carriage and bike Tour Information